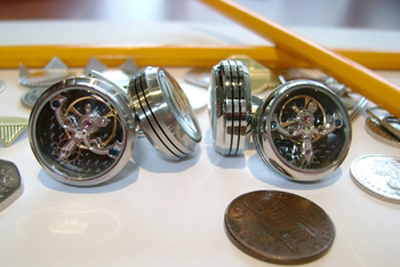 Symbolizing a certain subtle refinement in modern man's dress codes, cufflinks emerged at the
dawn of the 17th century. They were an indication of social rank and allowed gentlemen of that
era to out-rival one another in their originality. To this day, cufflinks celebrate individuality and personal statement.
TF Est. 1968 is a Swiss brand that dominates in the world of superb cufflinks. These new "Tourbillon" cufflinks offer a witty nod to the world of watchmaking. Encased in a cage of steel, sporting an array
of carbon details, these cufflinks offer a balance wheel mechanism that moves perfectly with every swing of the wrist.
The design of the cufflinks emulates a wristwatch, with sapphire crystal and watch case design. The TF cufflinks are air and watertight and resistant to shocks .Each pair of cufflinks is individually numbered, and comes in a variety of styles, including black PVD, chocolate PVD, steel with carbon, steel with diamonds, rose gold plated or yellow goldplated.
These are really cool cufflinks that offer whimsy and sophistication at the same time thanks to the always moving mechanics. These hot new items are finally available on the retail market (starting at $435.), and in fact, you can see more styles by clicking on their ad on the right.