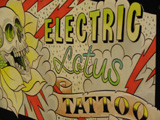 Tattoos have been a part of art and life since ancient times. It is believed that the art of tattooing originated in Egypt, developed by the Nubians. However, tattoo art was also important in Asian cultures at the same time. As early as 2000 BC, tattoos and their bearers were not considered social deviates, but rather, art forms and expressionistic individuals. People from all walks of life found their own special meanings in body art.
Then, along through the centuries, somehow tattoos became associated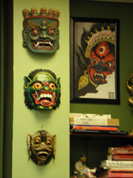 with gangs or negative influences and became frowned upon in some cultures and walks of life. This may have happened in the 300-600 AD period, when thieves in certain civilizations were marked with tattoos for punishment in certain Asian cultures. Still, in other cultures tattoos were reserved for the elite, as tattooing was an expensive form of art that was out of reach to the common people. Thus, for many societies, the idea of tattoos remains controversial. Are they a sign of elitism or troubled souls? Are they a positive sign or a negative one?
Whether one is for or against tattooing one's body, the reality is that tattoos remain an art form and a form of individual expression. People of all ages today turn to tattoos for individualism, personal control and simply art for art's sake.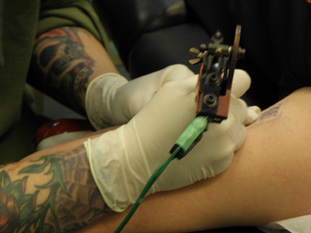 Today, I visited a very highly respected tattoo shop in northern NJ. Called the Electric Lotus, the place is licensed, clean, informative, helpful and comes with a sterling repudiation. They use state-of-the-art equipment, sterilization techniques and clean-up procedures. The artists are predominantly young men and women interested in creating their best form on the body.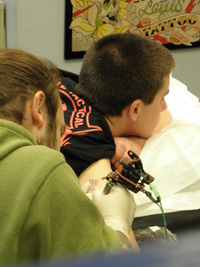 To create a tattoo, a drawing is first rendered on sketch paper and then drawn onto the body. Then, through an electric drill-like piece of equipment, and into a needle tip that pierces the skin. The person being tattooed while I was there was a young man, still in school, receiving his very first tattoo. I thought it looked painful; he said it felt "annoying." The well-tattooed artist, Morgan, did a great job. It looked nice when done.
To tattoo or not? It's an individual question. It's definitely not for me. But I do think tattoos look good on the Linde Werdelin Oktopus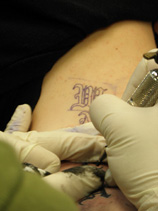 Tattoo watches – and I bet they don't even feel a thing when being tattooed! Stay tuned … I'll talk about those this week.