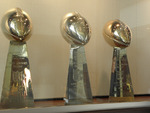 ©copyright by Roberta Naas It isn't often you get the chance to take a behind-the-scenes look at where a  professional football team basically spends the majority of its time during season – in its home training camp. So, even though everyone in my family is pretty much a devout JETS fan, when Timex invited me on a tour of the Timex Performance Center at the new Meadowlands Stadium – Home of the New York Giants — I had to go.  Today was the New York Giants vs. Dallas Cowboys game, but before the game, a small group of us toured the performance center, tailgated there and got to go on the field with the Giants during pre-game warm-ups at the new stadium.
Since Timex has been sponsoring the Giants for the past two years (with a contract that runs for another 13 years), it had the naming rights for this state-of-the-art, multi-level practice center that opened in May 2009, which it called the Timex Performance Center.  In the lobby are a host of trophies, including the three NFL Vince Lombardi football trophies for the Giants' three Superbowl wins.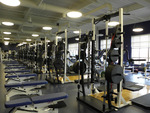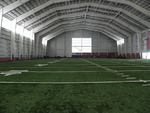 ©copyright by Roberta Naas The 103,000-square-foot Center houses an amphitheater for press conferences, Giants teachings and coaching lessons, individual coaching rooms split by positions,  a television recording studio and an amazing gym and weight room. The locker room is football shaped. The halls are lined with the jerseys and jackets of Giant players in history – both decades ago and fairly recent.  A short walk outside and into another building brings you to the indoor full-sized turfed football field, while outside there are four full-length fields.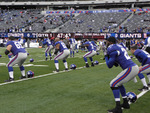 ©copyright by Roberta Naas (The Timex Group USA, Inc. entered into this partnership with the New York Giants to enable both groups the opportunity to collaborate on training solutions for athletes who participate in various sports around the world.)  While the Timex Performance Center is impressive, as is the new stadium, the Giants today were … well … let's just say they didn't win. (The Jets did, though).