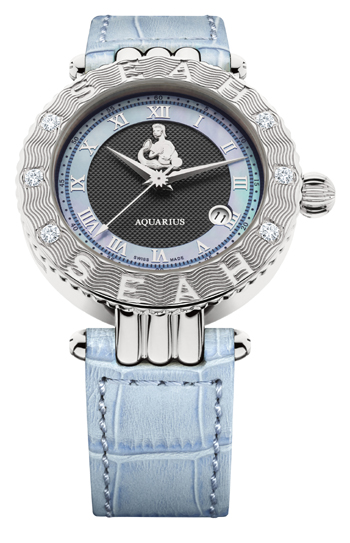 This week starts the dawn of the Aquarius – if you are into the zodiac. SEAH® Watches offers wonderful timepieces that reflect each astrological sign – at an affordable quality/value relationship. I am a Pisces and wear this watch a lot – it is the one that just simply says who I am and reminds me all the time of my own unique traits and inner potential.
This SEAH® Aquarius watch is a 42mm Swiss made Automatic watch with a natural colored mother-of-pearl chapter ring that is hand crafted. In fact, the making of these layered chapter rings is very difficult to do, and so they are an expensive feat. The exquisite natural pale blue and white mother of pearl used in the SEAH® watches is sourced out of Indonesia, and its translucency is so alluring that it changes its hues based on the angle and the light, as well as the surrounding colors. The chapter ring is hand-affixed to the dial, and the numerals are hand applied, as well, with the utmost attention to detail, precision and excellence.
For those Aquarius folks out there, this is SEAH's horoscope:
Aquarius people look forward and think outside the box. Like their symbol, the Water Bearer that pours knowledge and wisdom earthward, Aquarius seeks to nurture humanity.
Aquarius – you are the Futurist of the Zodiac. Innately intuitive, original and inventive, you seek freedom through creative problem-solving, and your unique approach to life is inborn. Amethyst is your birthstone, Uranus your planet, Air your element. Uranus governs lightening and intuitive power, those sudden flashes of understanding that unify diverse ideas; trust and listen to them. Through understanding the universal principals of Aquarius you can best align with time and honor your pioneering spirit. Social and gregarious, you are nurtured by group activities. Philosophical discussions with friends uplift and inspire your inquisitive mind. Keeping a journal to record flashes of insight will be an inspiring process. Take time to develop and listen to your intuitive gifts. Look to the future knowing solutions to challenges are yours to discover. Aquarius, you're a free spirit, this is your gift…don't forget to trust your intuition.