Ever get just a little jealous of those wine connoisseurs who can tell the exact notes, flavor and aromas of wines? Well here's your chance to one-up them. Agresti, the renowned Italian cabinet maker that has been building creates luxury jewelry armoires, safes and cases for pens, watches, cufflinks and games for decades, takes wine tasting to a new level with its elegant "In Vino Veritas" wine tasting kit.
Designed to help oenophiles train their senses to single out and identify a variety of wine flavors and aromas, the new kit features a selection of aromas commonly found in fine wines. It is accompanied by a book explaining these aromas and describing the wines in which they can be found. The "In Vino Veritas" kit is a handcrafted chest made of shiny Cluster Poplar with Red Briar inlay and includes 24 "Le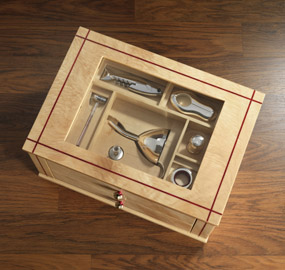 Nez du Vin" liquid aromas in numbered small glass bottles, designed to educate the nose to recognize wine's aromas. The liquids, which are only to smell, not drink, are numbered, and the accompanying book explains the aromas. The kit comes with a nice collection of shiny chrome wine accessories. It retails for $2,995.