Storage — one of the single most importnat things in the world of internet savvy consumers. From hard drive back ups to USB keys and even the cloud — it's hard to have enough room to save all those pictures and information.
I have a few trinkets sitting on my desk at all times, though, that help me do just that — store and save — but in style!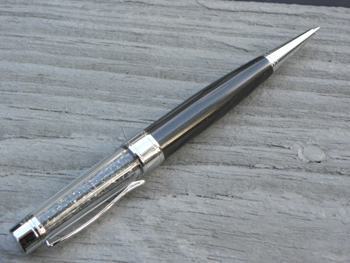 Being a car lover — (well, of course, and also a watch lover) — my favorites come from TAG Heuer in the shape of a nice heavy-weight stainless steel Formula 1 car, and from Chopard, in the shape of a cool rubber tire tread (ok, well half a tire). Finally, a superb sparkly pen that writes like a dream from Swarovski.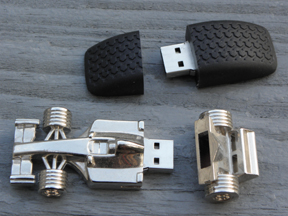 What makes these things so great you ask? The fact that they are all USB keys that double as dandy desk items! What's more, they're fun to travel with. In the world of flat credit-card like usbs that fit in your wallet, and boring, ho-hum sticks — these are fun conversation pieces.  Whenever someone walks in my office — and
there's something new on my desk — most ask immediately – how does it open? I'm waiting for the brand that sends me a cloud-shaped mega-sized key, and that may take the top spot. If you have a favorite USB– tell me about it please …