This weekend, as I thought of summer gone and fall fading, I began dreaming up winter vacation ideas, which got me thinking of the lovely Caribbean. So this weekend's sojourn is travel related: where we visit the warm turquoise waters and the hot white sands of the easy-to-get-to Dominican Republic.
This desirable island, than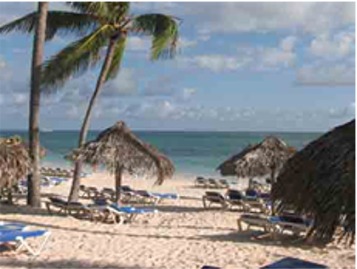 ks to its climate, golf resorts and water sports, has a lot to offer. I prefer the East coast – often referred to as the Coconut coast thanks to the hundreds of swaying palm trees on the 30-mile beach stretch of Punta Cana and Bavaro Beach.  The DR, found by Columbus in 1492, has a host of all-inclusive resorts that await the summer-starved traveler.
Among them, the Melia Caribe Tropical. The resort is huge – so beware – anywhere you want to go you have to walk, but the weather is beautiful and you don't mind too much – unless you're anxious to get to one of the 14 restaurants – then take one of the little trains that jitney around the property *(but be warned here too, those fill up fast).  The lobbies (there are 2) are grand with lush greenery, streams, dark wood, marble, and further back, cabanas and ceiling fans to while the time away in Island style.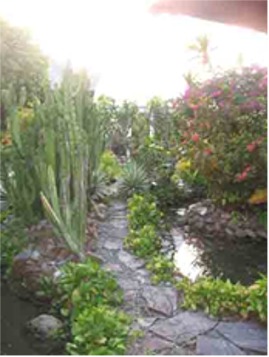 The 1300-room resort, with its 10 bars, 8 pools, 2 spas, 10 tennis courts, fitness center, kids club and even wedding pagoda – has something for everyone. Owned by the Spanish Sol Melia firm, the resort lies on the expansive Bavaro Beach – one of the most beautiful white sand beaches in Punta Cana with warm, clear turquoise waters and superb swimming. Water sports run the gamut from snorkeling to diving, kayaking, paddleboats and catamarans, speed boating and parasailing.  
Restaurants indulge guests in choices suitable for any palette – with flavorful cuisines ranging from Thai to Mediterranean, Italian, Japanese, French, International and Mexican, as well as several grills and buffets. The only down side is that one can only book a reservation for dinner 24 hours in advance, and often the restaurant of choice is fully booked, or the times left are 6 or 9 pm (typically too early or too late). One pro to Melia Caribe Tropical for those in need: a 24-hour-a-day medical center on premises with a doctor on call and a hospital minutes away.
Pictures  (C) Roberta Naas