Montegrappa, Italy's revered manufacturer of writing instruments introduces a new quartet of pens for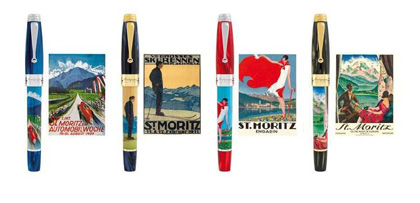 2012 to honor and capture the essence of St. Moritz. This Swiss destination in the Engadin Valley began to prosper more 150 years ago, when it not only became known as a prestigious ski resort, but also launched the Alps as the newest vacationing spot. It is the home of ice-skating championships, golf tournaments, and the first horse race through snow. This area has been portrayed in many movies ranging from Alfred Hitchcock's The Man Who Knew Too Much to the James Bond movie Goldfinger. In addition,
St. Moritz is the gathering place of the world's celebrated artists, collectors, and critics, who come together for the St. Moritz Arts Masters.
Fittingly these Montegrappa pens, not only instruments of artists but also works of art themselves, have barrels portraying one of four historic posters of St. Moritz, all hand-painted by artist Lorena Straffi. These beautiful writing instruments are made from celluloid, with natural pigments, and mother-of-pearl, and are further adorned with either 18-karat gold or sterling silver. The 2012 St. Moritz Limited Edition is composed of 300 fountain pens($5,075) and 300 roller balls (starting at $4,445). They are colorful, bold pieces that attract the eye.