SEAH® cufflinks are created in stainless steel or in steel with 18-karat goldplated accents. Each features a unique, patented design of the astrological sign. They retail starting at $290.For dad, husband, son or significant other – there are few great pieces of jewelry one give a man—but nothing is as bold and alluring as cufflinks for that well-groomed guy.
When cufflinks first appeared on the scene at the beginning of the 17th century, they were a sign of social rank and allowed men to out-rival one another in their originality. Even today, 500 years later, cufflinks celebrate individuality and personal statement.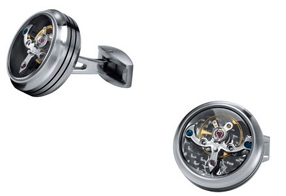 Encased in a cage of steel, sporting an array of carbon details, these cufflinks offer a balance wheel mechanism that moves perfectly with every swing of the wrist. TF cufflinks are air and watertight and resistant to shocks .Each pair of cufflinks is individually numbered and a variety of designs are offered, starting at $435. So, what kinds of cufflinks are out there? All sorts of great designs – -from tourbillon cufflinks by Swiss brand TF Est. 1968 that have moveable parts in them and emulate watchmaking, to truly personalized astrological sign cufflinks by SEAH(R).