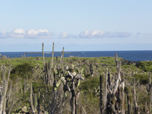 One of the world's most beautiful and precious places, the Galapagos Islands is a UNESCO World Heritage Site. These islands – where Charles Darwin formed his revolutionary theory of evolution – are an extraordinary ecosystem of life unlike any other in the world. Here, the most incredible array of birds, animals and plants co-exist in a volcanic environment that is the source of ongoing research and invaluable knowledge. The specific animal and flora species found in the Galapagos evolved here through natural selection due to the differences in living conditions –which vary from one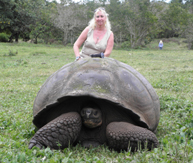 island to another.
Blue-footed boobies (birds with blue feet and beaks) are a beautiful sight to behold only here. A great numbers of sea lions and the world's only marine iguana also make the Galapagos Islands home. Galapagos Sharks are prevalent, as are many other species. But perhaps more impressive than the sea life, birds and animals that can be seen while diving, snorkeling, hiking and beach walking, are the amazing 500-pound-plus tortoises indigenous to the island — many of them hundreds of years old that roam the grounds in a sleepy nature. To walk among them, visit the tortoise preserves, Las Primicias Hacienda, in Santa Cruz- where the experience is unforgettable.

Unfortunately, due to invasive animals, pests and non-indigenous species, the unique wildlife and fauna of the Galapagos is threatened. The Islands are on the UNESCO Red List, signaling their danger status. The non-profit Charles Darwin Foundation, which works to preserve the environmentally rich archipelago, is located here, and when one visits the island, a tour of the Foundation's work and preservation is an absolute must. On my visit, with IWC — which sponsors the Charles Darwin Foundation — we went to the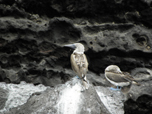 islands of Santa Cruz and then Floreana, the only place in the world where the marine iguanas live, and which is undergoing a major restoration plan to reintroduce the mockingbird and tortoises to the island. We stayed just a few short days, but the entrancing wild life and fauna, and the history of this archipelago makes it a must-visit-in-your-lifetime calling.