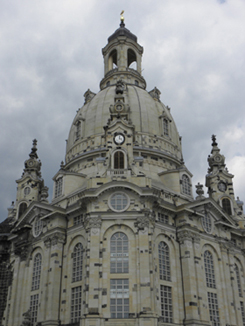 During my recent visit to the Saxony region of Germany with A. Lange & Sohne, we stayed in lovely Dresden, the capitol city of the Free State of Saxony, where one afternoon, Lange took us on a stunning walking tour of the city that was once behind the Iron Curtain. Nearly totally destroyed during World War II, Dresden is situated in a valley on the River Elbe, and has a long history as the center or religion and royalty for this region – all of whom filled it with culture and artistic splendor prior to the Wars.
Architects and designers salvaged what they could of the
stones and blocks of besieged buildings and entwined them with new ones in the rebuilding of the inner historic city. Some buildings remained – luckily the stunning hand-painted tiled wall of the Furstenzug (which shows the Saxon sovereigns depicted in Meissen porcelain) was one that made it through the centuries.
The city is a mix of architecture spanning Baroque, rococo, Renaissance and Classical styles – all in a walkable distance and incorporating a rich history of Protestantism and of Augustus the Strong who flopped to Catholicism in the name of expanding territories (he wanted to be king of Poland). Since the German reunification in 1990, Dresden has regained some of its importance as a cultural and political center. It is a wonderful city well worth visiting.