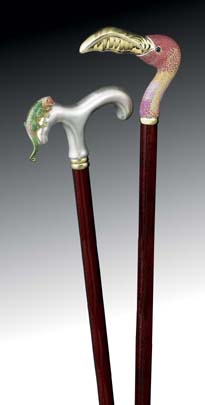 Elegant walking canes intricately designed and bedecked with diamonds and gemstones.There are jewelers, and there are jewelry designers. Robert Wander for Winc Creations is a jewelry designer extraordinaire with a free spirit and amazing heart who absolutely knows how to think outside the box. Living in Hawaii, Wander is inspired by nature. He sees things from a different perspective and interprets them in a way just different enough that makes his jewelry truly stand out from the rest. His first creations were of bejeweled bugs – and were winners. Before then, no one had brought such ugly creatures to life in such stunning motifs. Caterpillars carved of onyx and set in gold became brooches, lizards and dragonflies set with multicolored gemstones have become icons of Wander's collections. Time and again, he offers reinterpreted nature and surrounding life in whimsical glory – setting industry trends. He has even carved the head of a cane in the likeness of a parrot – complete with 18-karat gold, diamond beak and entirely gem-set head.
More recently, Wander has moved into larger, individually cut gems of the earth in their rough, imperfect beauty to emulate other delights – with his Crystal Candy series. Thereafter, he unveiled the elegant Stiletto line of shimmering multi-faceted Fancy-cut ultra-long shapes that are set in gold and offer alluring and uniquely beautiful looks.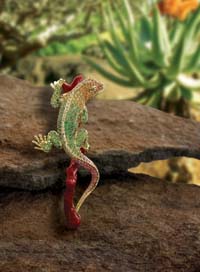 Stunning gemstone-set 18-karat gold lizard brooch rests on a coral twig. Yes, Robert Wander is a designer of many sides, with multi-talents and inviting techniques. He finds the most scintillating of colors in the gems he uses, from natural emerald, green beryl, aquamarine, yellow beryl, morganite, imperial topaz, tourmaline and others for his collections — and infuses them with his creativity.
It is hard to pick a favorite collection from Wander, let alone a favorite piece. This is a designer from whom we are always waiting to see "What's next?"  When asked, he usually just smiles and winks … We have to wait for the season's unveiling in June …. Then we'll bring you more.