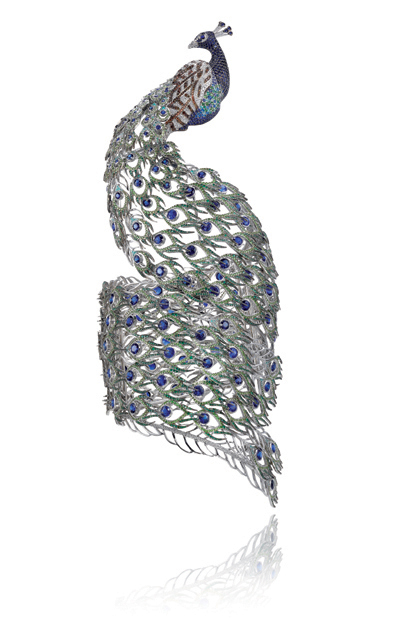 From the sublime chocolate diamond bear ring, to the adorable yellow diamond quacky duck ring – to the absolutely unbelievably magical peacock cuff bracelet—Chopard has demonstrated this year more than ever before that its animal instincts are right on target. In its haute Joaillerie collection, the brand releases extraordinary new pieces to the Animal World series that steal hearts and minds, and remind us that this brand has a commitment to nature.
The newest creations are the sum of master designers, stone polishers, setters, and hand crafters who bring generations of research and knowledge to the forefront thanks to the imagination of Caroline Gruosi-Scheufele of Chopard and her team.
The sparkling duck floats in a blue topaz pool, white the peacock sits majestically on the wrist clad in diamonds, sapphires, Paraiba tourmalines, tsavorites and emeralds. In fact, this bracelet took hundreds of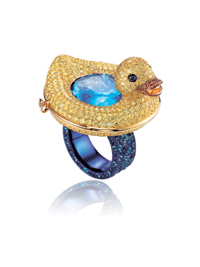 hours of study and work to create its structured body with more than 50 floating feathers of 7,500 diamonds and gems. The work is magnificent and the result – ever more alluring.