This Thanksgiving week was filled with family visits and mingling with watch aficionados on a more comfortable, easy level, as we all just relaxed and enjoyed good food and wine. One evening in Philadelphia a friend and newly-started watch collector asked me what the celebrities wear – both on and off the big screen.  It was an interesting topic, and one I decided to bring forth herein – just in brief for now. As we saw yesterday here at Atimelyperspective, with the announcement of the Michael Schumacher and Audemars Piguet partnership, obviously, many of the brands have their "ambassadors." Spokespeople who are affiliated with them and wear their watches, appear in their ads and often make appearances at events. These ambassadors can be sports stars, screen stars, models, etc. Typically, these stars will be seen wearing the brand they represent most of the time (thought no t always in the movies – as that isn't their call).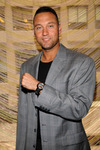 Derek Jeter is an ambassador for Movado, and wears the Series 800 watch.
Then, there are true watch lovers and collectors who wear a multitude of different brands because they love and collect watches. One might be surprised to learn that some celebrities own hundreds of watches that they have actually purchased themselves. They are not on any payroll and wear what they like whenever they like.
There is also another sect of celebrity – the fickle ones – the ones who not only wear their designated brand, but also wear other brands as well.  Many of these celebrities buy their watches, otehrs receiv them asgifts. There are, however, certain brands, like Audemars Piguet, that refuse to gift a watch to a celebrity. Yes – it's an interesting world of singers, models, performers, sports stars and others who love their watches asstatus symbols and as symbiotic time keepers.
So, who's wearing what these days all depends on the category mentioned above.  But here is an example from each category to whet the appetite, and now that we know it's a subject of interest,we'll show more every once in a while to keep you sated.
Because he can:

Recently, Michael Jordan splurged on a limited edition Hublot Big Bang Camo Arctic Bang Carat — one of 500 pieces produced. It retails for $23,900 and boasts a black ceramic case and bezel adorned with semi-precious gemstones.  The watch's camouflage print strap is made from Nomex and rubber –fire-resistant materials used in the uniforms firefighters and professional car racers wear.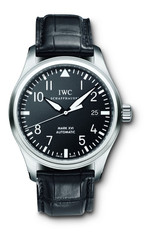 On the Screen:
In the movie RED, actor Bruce Willis wears the IWC Pilots Mark XVI watch ($3,500). The automatic watch is crafted in stainless steel with a black automatic strap.
Stay tuned … Atimelyperspective will post more celebrity spottings as we go along.