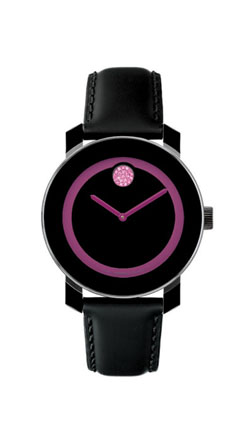 October is breast cancer awareness month, and today, more and more jewelry and watch designers support the cause with creative designs and charitable donations. What's more, savvy consumers are happy to don the colors and stand up for those they love who have fought and are fighting this battle. Herein are a few brands that join the cause, and whom you can be proud to wear. Your purchase translates to a donation to a breast cancer cure. For instance, Coach Watches creates a special 2011 Coach Phoebe Breast Cancer Awareness watch that features a Coach Heritage logo bezel in pink enamel, and the bangle sports a detachable Coach logo charm etched with the Breast Cancer ribbon motif. Coach is donating 20 percent of the proceeds of sales of the $298 watch to the Breast Cancer Research Foundation. Similarly, Movado has created the Movado BOLD Breast Cancer Awareness Watch 2011 in black composite with signature dot of pink crystals and a berry ring and hands . With every $350 watch sale, Movado is donating $50 to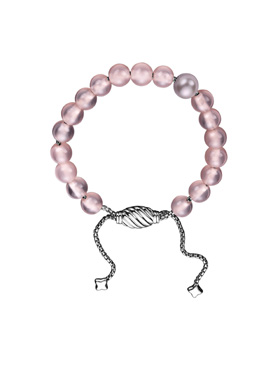 David Yurmanthe Breast Cancer Research Foundation. The caseback is etched with the Breast Cancer ribbon motif.
In terms of jewelry, designer David Yurman offers a beautiful pink chalcedony and pearl bracelet called the Spiritual Bead Bracelet that retails for $375 and is on sale at David Yurman boutiques with a portion of all proceeds benefitting the Breast Cancer Research Fund. Swarovski offers its Pink Hope collection to celebrate its support of The Libby Ross Breast Cancer Foundation and their Pose for Pink Yoga program, which offers free yoga classes to breast cancer patients and survivors. Swarovski's breast cancer awareness collection includes the Pink Hope pin, charm and pendant ($55-$65). So if you want to support this cause, there's a wonderful way to do it and still end up with a beautiful, wearable statement.