This month I had the distinct pleasure of traveling to Doha, Qatar, for the 8th annual Doha Jewelry and Watch Exhibit (see recent posts on this subject). While there, I did a little exploring of this desert peninsula located about halfway down the west side of the Persian Gulf. Surrounded by the turquoise waters of the Gulf, the land is beautiful – and — thanks to the find of natural gas and oil — very rich. As such, the desert is incredibly green in all the right places – adding the perfect mix of grass to teal waters, blue skies and white sands.
An Islamic state, Qatar is in the throes of major development and construction is a second-skin there right now. Still, the sky line is already filled with unusual buildings – crooked buildings, cigar-shaped buildings and other wonders. The state is small and so
seeing it is relatively easy. For me, as a woman alone, I was restricted somewhat in dress (moderately) and activities. In fact, the desert rides out to the inland sea – a true treasure, I am told — was not an option. However, right in Doha is the wonderful Souq Waqif – filled with spices and incense, silks and fabrics and other wonders of the land. The Souq (market) offers everything from the exotic (including wildly colored birds and rare animals) to the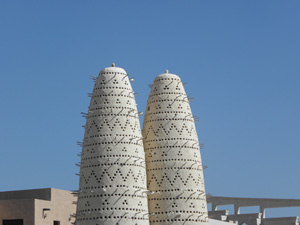 basics and in between. Spread across cobblestone allies and walkways, the Souq offer great dining options, as well with everything from Moroccan to Lebanese and more – including a couple of "Hubbly Bubbly" spots.
Looking for a little more culture? A visit to the Museum of Islamic Art offers a collection of spectacular illustrated manuscripts, enameled glass, silver-inlaid metalwork, early earthenware, pottery, carpets and more. Works of art range from the 7th century to date. The building itself is also a beauty to behold.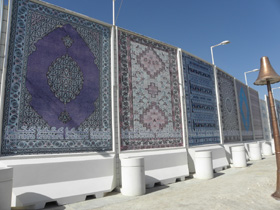 Designed by world-renowned architect I.M.Pei, it is situated on the Gulf and features contemporary design.
Currently being finalized in Doha is an entire cultural village, Katara that consists of museum, an opera house, historical spots and a host of restaurants. The entry to the village is lined with huge posters replicating the region's carpets for a breathtaking journey in craftsmanship and color. A little extra time? Take a relaxing walk along the seven-mile Corniche walkway that runs along the gulf, where you can view the traditional wooden dhows (boats) and take in the beauty of the skyline and the colors of the Gulf.