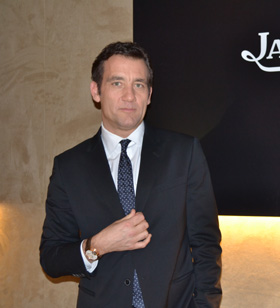 photo of Clive Owen (c) Jon Bues @ IW MagazineAs if the SIHH isn't exciting enough by itself, Jaeger-LeCoultre brought in Academy Award nominated actor, Clive Owen to present the new fine watchmaking Duomètre collection. I had the privilege to be among the few invited journalists to see and hear the eloquent Owen make his presentation.
"A Jaeger-LeCoultre watch is everything you want a high-quality watch to be – all the hours of workmanship make this a beautiful and very elegant watch to wear, and it also looks great, » says Clive Owen. "I have been wearing Jaeger-LeCoultre watches for many years now and have always been a fan of the brand. The level of the craftsmanship is so impressive: the ethos of the company with the attention to detail make these watches very desirable. I always wear my Duomètre à Chronographe in platinum and it feels right! "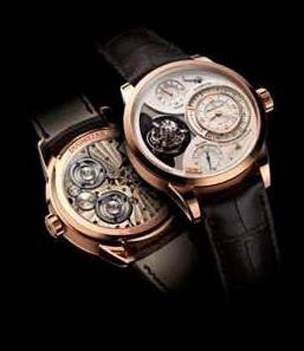 The newest Duometre a Spherotourbillon is built with an impressive dual-wing mechanism, which features two separate and independent mechanisms in one case, both linked to a single regulating organ to guarantee chronometer precision. Since 2007, the brand has offered a Duometre Chronograph and perpetual calendar. Now, the tourbillon joins the ranks. The multi-axis tourbillon timepiece ahs a flyback function and offers travel time with 24-hour reference time zone. The new caliber consists of 460 parts for a sophisticated masterpiece.