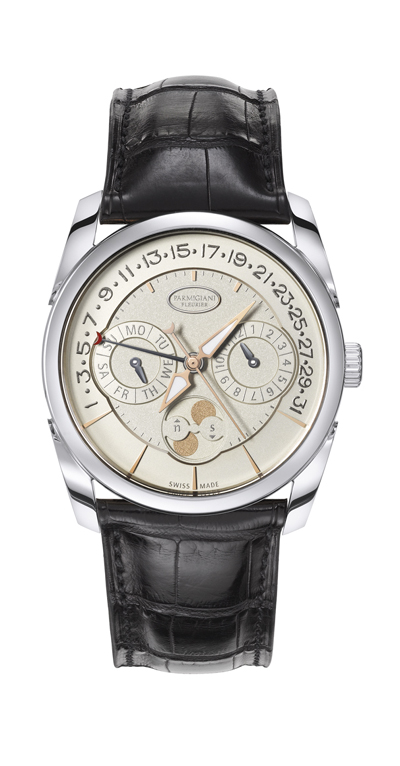 Making the 17th movement unveiled by this still very young (but incredibly experienced) watch brand, Parmigiani's new Tonda Annual calendar is based on the brand's PF331 automatic movement, but incorporates an additional module to create the PF 339 Annual Calendar, which automatically accounts for the variation in the number of days in each month. Remember—it does this via a MANUAL movement comprised of hundreds of parts and not driven by a computer or quartz battery. Only one manual correction needs to be made each year – for the month of February in non-leap years. In a leap year — like this year – the date will display the 29thof February and will automatically move to March 1.
The watch features a retrograde date on the outer portion of the dial, and day of week at 9:00. The month is displayed via a number from 1-12 at 3:00. The moonphase indication only requires one correction every 120 years to reduce the discrepancy between a classic lunar cycle of 29 days and 12 hours, and the actual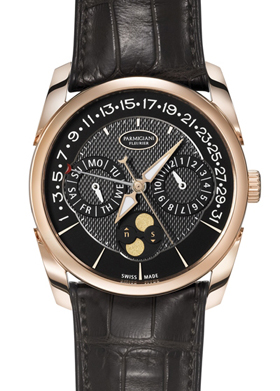 lunar cycle of 29 days, 12 hours, 44 minutes and 2.98 seconds. But who really cares about that, as we won't be around for that adjustment in 120 years and that's the kids' kids' problem. It offers a northern and a southern hemisphere moon indication – so you know what's going on elsewhere in the world. Created entirely in-house, it's offered with a black dial or a gold dial (my personal favorite). It makes its debut to the world at the Geneva SIHH in just about two weeks!