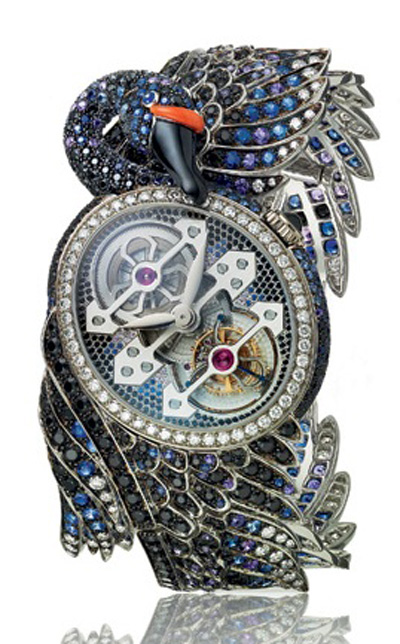 Always on the cutting edge of design, craftsmanship and dream-making, the legendary French jewellery house of Boucheron is renowned the world over for its intriguing haute joaillerie and haute horlogerie creations. This year at BaselWorld, the brand does not disappoint.
In fact, Boucheron, working with Girard-Perregaux, brings forth one of the most regal interpretations of nature for the wrist. The Cypris Tourbillon (black) is an entirely gem-set and diamond-adorned wristwatch in the form of the Cypris – complete with curled head and huge swan feathers. Acting as the body of the Cypris is the watch case, housing the legendary Three Gold Bridges Tourbillon escapement. The GP9700.OA mechanical movement with manual wind and tourbillon powers the watch, which is crafted in 18-karat white gold with a bezel set with 52 diamonds. The base plate of the movement is meticulously set with 146 black spinels, 20 blue sapphires and 12 purple sapphires forming the back plate for the Three Gold Bridges The bracelet – which consists of the Cypris' elegant neck, slightly cocked head and feathers galore — is bedecked with 852 gems, including 290 blue round sapphires, 138 purple round sapphires, 313 black round spinels, 190 round diamonds, 2 blue sapphire oval cabochons, 1 coral (for above the beak) and 1 carved onyx piece as the beak.
Words really cannot describe this masterpiece, but suffice it to say, if I had the money, it would definitely be on my wrist.