Showing at the Geneva Time Exhibition (GTE) Louis Moinet – whose tag line is "Mechanical Art in Limited Edition" —  unveiled its newest Astralis, or astronomy-inspired watch: an alliance of three high-tech mechanisms, including an astral tourbillon (with a plate behind the tourbillon at 11:00 made of aventurine), a split-second  column-wheel chronograph with star hand that emulates a shooting star, and a 24-hour planetarium disk at 6:00 that features 4 rare meteorites  (one from the moon, one from Mars, and two others) meant to emulate the sun, and three planets.  The case of this watch is equally as complicated, as it involves the manufacture of 50 different parts that are meticulously assembled. There is a patent pending for the interchangeable crown system, which integrates the split-second function. Just 12 of these extremely complex watches will be built, each retailing for $295,000 approximately.
The brand also displayed the new Geograph GMT limited edition steel watch in 60 pieces with chronograph, which will make its official launch at BaselWorld in March.  Other pieces of distinction created by this brand include the approximately $300,000 Jurassic watch dial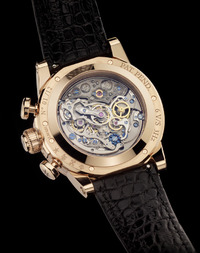 timepiece, whose dial is made from fossilized dinosaur bones estimated to be 65 million years old and come from the Rocky Mountains.  Just 12 of these watches have been made. The company also has an agreement with the descendents of the Jules Verne family to use the name worldwide and has developed a collection of timepieces that include several patent-pending specialties. Louis Moinet makes only limited editions in very select numbers of 1, 12 or 60 pieces for all of its creations – so when you wear one, you know you are wearing something truly special.