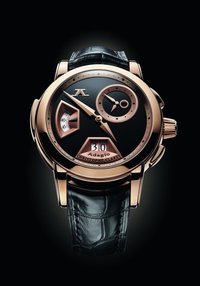 Well, for those who know luxury timepieces of the highest caliber, Christophe Claret is a familiar name. This wonderfully humble man has been making some of the most complex and technically advanced timepieces for decades – often under other brands' names. However, several years ago he unveiled his own brand – with the Christophe Claret name on it – and history was made. These pieces are true collector's delights.
Now, on the heels of the bold, square, stealth Dual Tow, Claret spins off to something a bit more classical – yet just as complicated. In Geneva recently, he unveiled the one-year-in-the-making Adagio, a GMT Minute Repeater. The repeater strikes the hours, quarts and minutes on demand with cathedral gongs fitted into a patented device that prevents them from knocking against each other when they vibrate under the hammer blows. The complex watch offers central hour and minute hands, big seconds disk at 9:00, a patented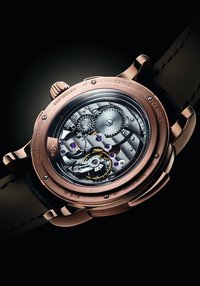 big date at 6:00, and a dual time-zone display with day/night indication. The ingenious watch also features a crown equipped with a security system that features a mechanism that disconnects the winding system when the mainspring is fully wound so as to avoid any potential damage due to excessive tension. Adagio is offered in either white gold or pink gold with a dial choice of either lapis lazuli or onyx. Either version, and only 8 will be made of each color of gold, retails for approximately $268,000. Other dial versions are being created.