There are many things Ulysse Nardin does right – astronomical watches, silicium and other high-tech, experimental materials, and jaquemarts. Yes, this brand could be synonymous with jaquemarts – the figures on dials that move with the sequence of repeater watches. Ulysse Nardin is a master at building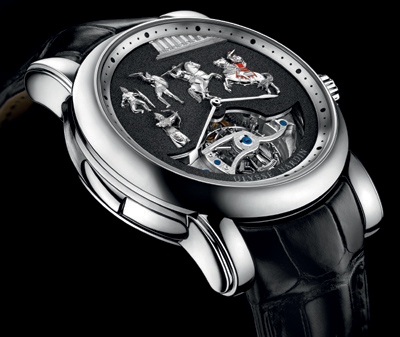 Jaquemarts – from its famed San Marco timepieces (wherein the two jaquemarts hammer the bell atop the tower in San Marco Square, Venice, as the repeater chimes, to its beloved Safari repeaters where tigers, monkeys and other jungle animals move in rhythm to the chiming time.
 Now, Ulysse Nardin again conquers of haute horology with its new Alexander the Great Minute Repeater Westminster Carillon Tourbillon Jaquemarts – in honor of one of the world's greatest conquerors and ambitions leaders – Alexander the Great. The watch features a visible one-minute tourbillion integrated into the dial. The Westminster chime has four gongs, each with a different tone and all four gongs sound in three different sequences for the quarters.
  What makes this watch even more special, however – if, it could be more special than it already is – is the fact that it houses cutting-edge technology– history in the making.  The watch features a Polycrystalline Diamond Dial. The development and use of manmade diamond signifies years of research, investments and revolutions in watchmaking by Ulysse Nardin. This decorative diamond is the culmination of millions of small, faceted diamond crystals engineered to grow together to form a continuous diamond layer. The result: an authentic, highly resilient, two-dimensional diamond surface that sparkles with intensity, exhibiting various colors depending on its purity.
The Jaquemarts on the watch consist of five figures of Alexander the Great completely clad in armor. Each is in a different fighting position. In one, he is on horseback with spear, in another he is standing with bow and arrow. Every time the gongs sound, the different figures take action depending on whether it is the hours, quarters or minutes chiming the time.  The fantastic movement is housed in a 44mm white or rose gold case. Just 100 (50 pieces in each color of gold) of these very special, limited edition timepieces will be made.