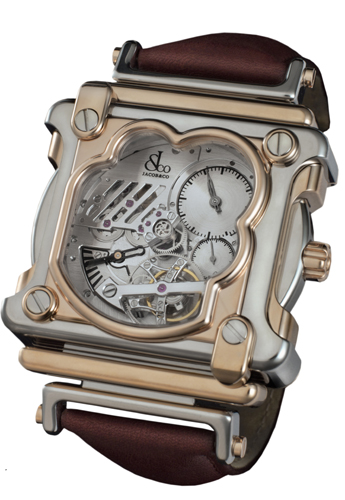 Since its entry onto the watch scene, the Jacob & Co. brand has been an edgy –often provocative and talked about – brand. From its Five Time Zone watches with their bold colors and big bling to the Crystal and Quentin Tourbillons that made headlines, the brand continues to collaborate with top Swiss firms to pull out all the stops. This year, Jacob & Co. unveils another alluring watchmaking feat — the Cyclone Tourbillon.
In this watch, the tourbillon escapement and the automatic winding system are completely integrated, with the tourbillon carriage mounted as a satellite on the oscillating mass of the automatic winding system (which has been moved from the back of the watch to the dial side).Thus, as the tourbillon escapement swings freely around the dial with the wearer's movements, the winding system is engaged – fully powering up the watch. Additionally, the system provides a visually stimulating appeal.
The horological work was two years in the making and is the result of a collaboration between Jacob & Co. and Swiss complications specialist La Fabrique de Temps, under the direction of Michel Navas and Enrico Barbasini, the N and B of the former BNB movement manufacture. The 48-jewel, 345-part movement, Caliber LFT 108, features a bidirectional winding system with 45 hours of power reserve. Devoid of a conventional dial, the watch incorporates the hour, minute and small seconds display direction onto the upper plate of the movement.
The watch is created in a limited edition of 36 pieces for worldwide distribution. It is built in a 60-part case crafted of white and rose gold. The first one will be available on the market late this fall, and while the retail price has not yet been established, one can rest assured that this bold beauty will be priced somewhere in the $360,000 or higher realm.