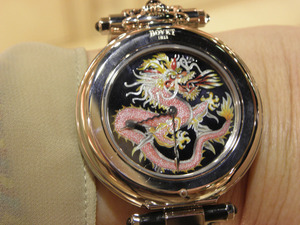 Bovet DragonAt the 8th annual Doha Jewelry and Watch Exhibition in Qatar this past week, men's complicated watches – especially tourbillons – stole the limelight. These were followed by limited edition pieces and high-tech, high-mech complexities from some of the independents such as Hautlence, Ladoire and Richard Mille. Naturally, being the Middle East market, watches adorned with some extra diamonds and gemstones faired strongly, as well, so those with diamond bezels and cases had added allure.
Still a few winners stood out in the crowd. Among them: Arnold & Son's set of three watches in 18-karat pink  gold dedicated to the discoveries of Captain James Cook, who made three explorations, each lasting three years, that were of great contribution to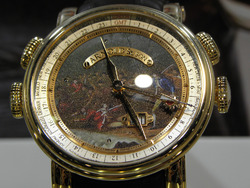 Arnold & Son James Cook (Hawaii)the world. Each of his voyages serves as the subject of a watch dial: Landing at Botany Bay in Australia; The Discovery of Antarctica; The Death in Hawaii. Each watch houses a Swiss automatic movement with a hand-touch up painted dial. Only 25 sets are being made and each set retails for approximately $165,000.
Also of interest is the new Bovet Dragon Tourbillon timepiece. While the front of the watch is an amazing tourbillon, it is the back of the watch that is perhaps most alluring. It features a dial valued at nearly $70,000 alone, which is entirely hand painted and enameled in seven layers of engraved mother of pearl and painting with a stunning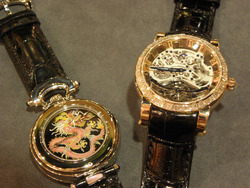 Bovet Dragon and Recital 0dragon on it (the year 2012 is the Chinese Year of the Dragon). With the flip of the strap, the watch is reversible. It retails for just under $300,000. Also important from Bovet is the Recital 0 — a skeletonized timepiece with a micro-sandblasted finish that looks white to the eye. This $290,000 watch is meticulously finished and features a diamond-set case. Each of these watches is an amazing feat of watchmaking technology inside and stunning art on the outside.