As a writer, it isn't often that I say it is impossible to describe something accurately. But with the recently released Jaquet Droz Bird Repeater watch, this is definitely the case.  The sheer beauty and technical mastery that brings this watch – with two parent birds atop a baby bird nest – to life is breathtaking. This is one video you don't want to miss.
Not only is this stunning watch a minute repeater, but also it is a superlative automaton – with many moving parts that bring to life nature's beloved birds.   By activating the minute repeater, the watch strikes the hours, quarter hours and minutes on a cathedral gong (visible via the sapphire caseback). Operating simultaneously with the repeater is a series of wonderfully animated automaton motions. As the repeater strikes, one parent bird lowers its beak with a worm in it to try to feed one of the baby birds, the other parent bird lifts its wing, which fans out magically to protect the other baby bird. Toward the end of time's chiming, the center egg cracks and a tiny new bird lifts its head. In all, the automatons make eight animated sequences.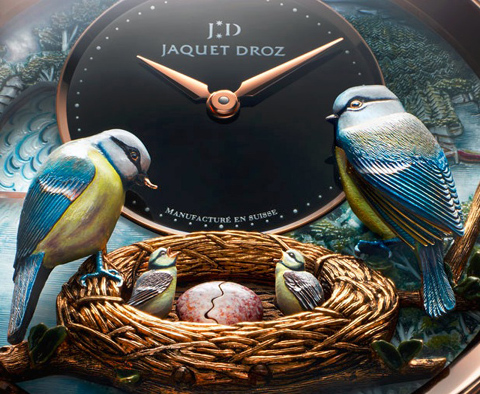 Just eight pieces of this magnificent Bird Repeater will be madein rose gold and in white gold  — each requiring hundreds of hours of watchmaking mastery to build the 508-part movement. The dial is hand engraved, and painted mother of pearl, with a black onyx center. The raised birds and nest are hand sculpted and painted by an enamel artist over the course of hundreds of hours.  Oh to own this watch would be wonderful. Sadly, I don't have the nest egg of just about $472,500 available (for the rose gold version, the white gold version costs more).
Watch this amazing video here: