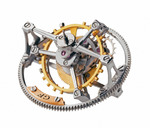 Greubel-Forsey's Double Tourbillon 30° mechanism.Ok so in today's day and age, many will admit that there may not really be a NEED for a tourbillon escapement – after all, our mechanical watches have reached such a sophisticated state of watchmaking that they already are incredibly accurate. Still, these devices remain a pinnacle of watchmaking feats, and a coveted complication.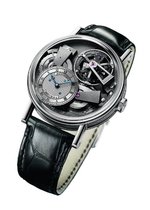 Breguet Tradition Ref. 7047PT fusee-and-chain tourbillon.Pronounced "TUR bee ohn" and translated in French as "whirlwind," this highly precise movement looks and works as beautifully as it sounds. Essentially a tourbillion timepiece houses a special escapement to compensate for errors in timing due to gravity's effects on the movement. It was first invented by watchmaking legend Abraham-Louis Breguet in 1795. Though he did not patent it until 1801 and did not actually market it in a timepiece until 1805.
Generally, tourbillons fetch approximately $100,000 or more at retail because of the hundreds of parts in them and the hundreds of hours of hand-finishing and assembling required to make them. Tourbillons are a favorite among high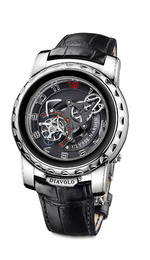 Ulysse Nardin Freak Diavolo.watchmakers to produce – especially in the past decade.  Today, watchmakers compete to create the thinnest tourbillon watch, the lightest-weight tourbillon using high-tech materials for components, double or triple tourbillons (such as http://www.greubelforsey.com/), and a host of hybrids that work differently or are displayed differently than ever before. (http://www.piaget.com/)
Whereas in the past the tourbillon watch featured a single aperture on the dial (if the watchmaker chose to showcase the escapement) to view the constantly rotating escapement, today's inventions can show multiple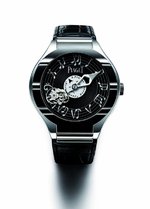 Piaget Tourbillon Relatif Jazz.escapements or have the tourbillon carriage attached to one of the hands,   which then rotates around the dial. Other inventions showcase the tourbillon pulled off the dial and onto the case side (for example, http://www.concordwatches.com/), or encased in its own sphere so it rotates like a bubble within the dial. There are advancements by some brands in the way the tourbillon operates, as well, with some utilizing constant force devices, chain fusee's and rotating axis systems.
Because the tourbillon is so coveted, this is often the timepiece that top watch brands elect to use to showcase advancements in technology or haute joaillerie techniques. As such, one may find silicium parts within the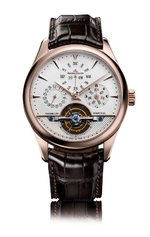 Jaeger-Le Coultre Master Grande Tradition Tourbillon a Perpetuelle.movements of these watches —a cutting edge technique used by fewer than a handful of the finest. (http://www.ulysse-nardin.ch/;
http://www.breguet.com/).
Tourbillons are created by only the finest watchmakers in the world in extremely limited numbers and are a collectors' delight – one that sometimes requires being on a waiting list for years. (http://www.jaeger-lecoultre.com/)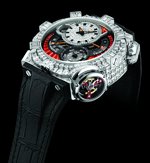 Concord C1 Eternal Gravity.