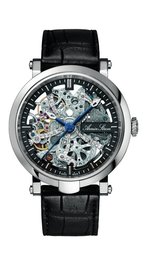 Armin Strom Blue ChipIn the world of luxury watchmaking –skeleton timepieces are among the most alluring to behold. A skeleton watch is one whose mechanical movement has been carved away to such an extreme degree that often as much as 60 or 70 percent of the metal is gone – leaving an open-worked masterpiece that not only takes the place of the absent dial, but also becomes a work of art on the wrist.
Typically, the bridges, plates and rotors are magnificently etched and intricately engraved by artisans who have spent hundreds of hours on the fine workmanship. Perlage, guilloche and other superb engravings are usually viewed via the sapphire crystals and casebacks that hold these movements in all their glory. Only the top watchmakers today create such intricately worked beauties by hand. There are also in today's world the new realms of CNC milling machines that can cut the tiniest pieces to perfection and so some skeleton watches can be had for better prices, though their artisanry is not a match to the hand-carved beauties.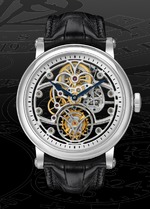 Franck Muller SqueletteFor the hand-created pieces, artisans craft the ultimate workmanship. Master engravers spend hundreds –even thousands — of hours etching the most succinct details into hundreds of miniscule pieces that comprise a single movement.
The first skeleton watches in history were antique pocket watches of the late 17th and early 18th centuries. These watches had detailed engravings (often florals and scenery) on the backs of the movements because when the
pocket watch was opened for viewing of the time, the movement and caseback was exposed to the viewer and the watchmaker wanted to embellish it with designs that reflected the era. Today's designs are more about intricacy, brand identity and tradition.