Richard Mille RM038 Skeleton watchA timepiece that is sculpted by hand, a skeleton watch is one whose movement has been carved away to such an extreme degree that often as much as 60 or 70 percent of the metal is gone – leaving an open-worked masterpiece that is one of the most alluring mechanical works of art for the wrist. Another category of timepieces that has emerged on the market as a significant trend is the Mainplate-revealed Open-Worked watch that is less bare bones than a skeleton watch. It typically does not have a watch dial, but rather allows the mainplate of the movement to be visible and apparent – showing more of the workings as a mechanical whole.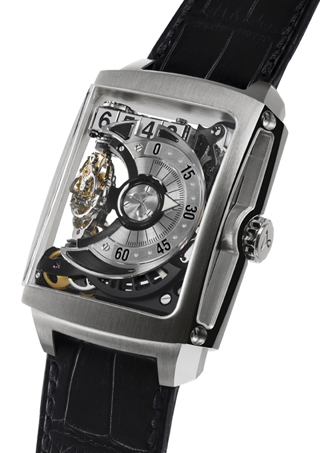 hautlence HL2.0  Typically, both open-worked mainplate-visible watches and skeletonized movements are magnificently etched and intricately engraved by artisans who have spent hundreds of hours on the fine workmanship. These exquisite timepieces are beautiful not only in their design, but also in their technologically advanced mechanisms – so they offer the wearer (and onlookers) a special insight into the world of haute horlogerie.
The first skeleton watches in history are actually antique pocket watches of the late 17th and early 18th century. Skeleton watches have enjoyed amazing popularity in the past few decades, and most recently — this past decade – the newer form of mainplate display has emerged as a strong trend.  To create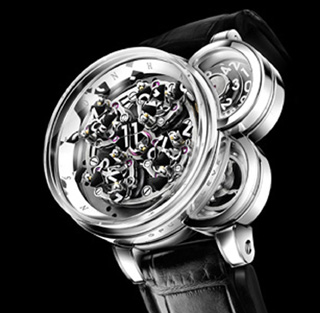 Harry Winston Opus 11 these watches, master engravers often spend dozens of hours carving away metal and etching the most succinct details into hundreds of miniscule pieces that comprise a single movement. The watches are alluring as mechanical wonders, and often are created in extremely limited numbers.