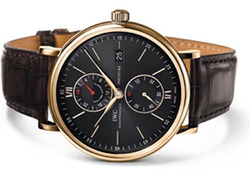 IWC Portofino Dual Time with Automatic Caliber 64000In today's hectic, fast-paced world, frequent travelers appreciate the ability to check the watch on their wrists and know the time not only where they are, but also where home is, as well. What's more, business travelers often need to know the time in multiple markets. For this reason, many of the world's finest watchmakers keep pace with today's times – offering dual-time zone and triple-time zone watches, as well as multiple-zone indication watches, and watches with UTC (universal time coordinates) and GMT (Greenwich Mean Time) indications.
Not only are timepieces offering multiple zone readouts, and world time indications, but also with technology becoming so advanced in the watch world, the indications are ever more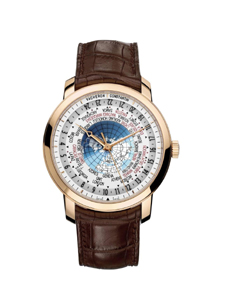 Vacheron Constantininventive.  Dual and triple time-zone watches feature hidden hands that are shown only when needed to indicate the extra zones, or feature extra digital display windows. Others offer the second time zone on a 24-hour subdial so one can always tell whether it is day or night, as well (such as in the new IWC Portofino Dual Time). What's more, many watches offer quick- or instant-set buttons to allow for ease of changing times. With the world divided into 24 different time zones, starting at Greenwich, England, a GMT often allows for instantaneous viewing of the time in any of the different zones in the world, and can have the cities listed on the watch, or a world map for added beauty (as in Patek Philippe, or Vacheron Constantin). Some brands today are even offering half hour increments (such as Blancpain) and other special options such as the difference in time between one zone and another (Cartier's Multifuseaux).