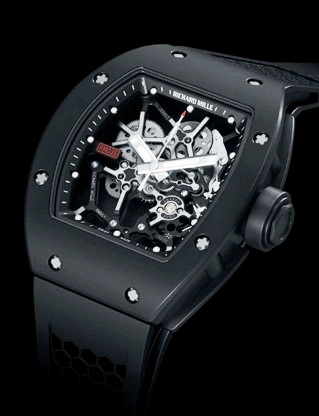 The watch industry has come a long way from its stainless steel and 18-karat gold days of 35 years ago.  Today, high-tech materials reign as movement parts inside the watch and as case and bracelets on the outside. Rado was the first real pioneer in the world of ceramics more than 30 years ago and not too long afterward, Hublot unveiled the first luxury watch with rubber strap. Next up, as the 20th century came to a close, titanium forged to the forefront.
 Now, the watch industry is filled with space-age materials that are cutting-edge alloys – often borrowed from the aeronautic or auto racing world, and some are even self-developed in house.  These new non-corrosive, light-weight materials (such as rubber- or titanium-infused alloys, liquid metals, forged carbon, etc.) are often hypo-allergenic alloys with long life spans. Additionally, new methods of coating materials – such as PVD (physical vapor deposition), DLC (diamond like carbon), give more rugged wear and tear ability.  Indeed, throughout the past decade-plus, visionary watch brands have propelled a 500-year-old craft to a new way of thinking.
 Leaders in the field include Hublot, which introduced a Cathedral Minute Repeater Tourbillon Chronograph in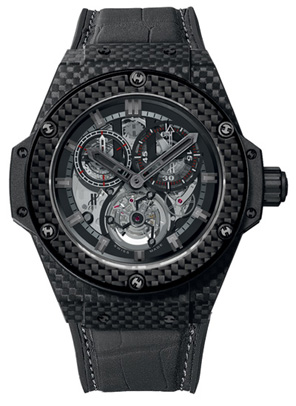 carbon fiber case; Richard Mille, who works long hours in Research and development to create durable, light-weight alloys for his pieces. Such alloys include carbon fiber, aluminum and magnesium blends – offering longevity, comfort and performance. Harry Winston has been utilizing its own trademarked alloy called Zalium™ for years, and Zenith recently released the El Primero Stratus Flyback in an alloy of aluminum with zinc, magnesium, copper, zirconium, titanium, silicium and iron called Alchron. Panerai has developed an aluminum and ceramic alloy and even Chanel has its own titanium and ceramic alloy.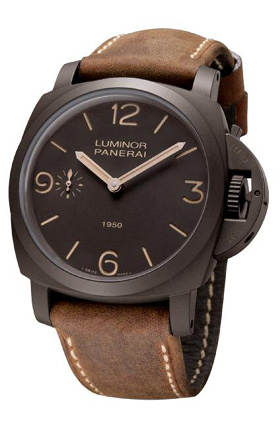 Watch movements also have their own high-tech materials in the very high-end realm, as the finest watch brands strive to bring their calibers to new heights.  Some companies, such as Ulysse Nardin and Patek Philippe have spent well over a decade investigating materials and utilizing such elements as silicium and ceramic ball bearings in their watches.  Certain new materials offer reduced friction, the elimination of lubrication, and longer times between servicing of watches. This is a complex category, and one which Atimelyperspective will bring more insight to soon.