Today, more and more timepieces are made of high-tech ceramic. What's more, this non-metallic compound is being used in the ultra- high-end for superb looks in colors that range from black to white to blue and more.
Rado is credited with pioneering in the ceramic watch world as far back as the early 1980s, but as innovative new processing techniques have developed, many other brands have jumped on the ceramic bandwagon.  Modern ceramics typically have elements in them such as silicon carbide, tungsten carbide, or aluminum oxide. These elements, and the preferred one today – zirconium oxide – also help produce a finished ceramic product that is strong and less likely to be brittle or shatter if dropped.  The materials are engineered to meet very strict specifications. They are created via heating and subsequent cooling processes, and typically have extremely high melting points (most can withstand temperatures from 1,800 degrees F and higher).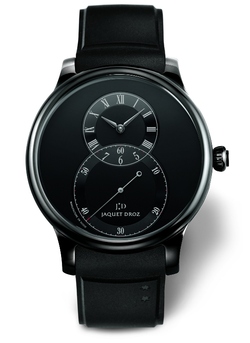 Ceramic watches are particularly appealing for sports pieces because they withstand chemical erosion and are extremely scratch resistant. Additionally they possess antimagnetic properties.  What's more, ceramic watches look really cool on the wrist!