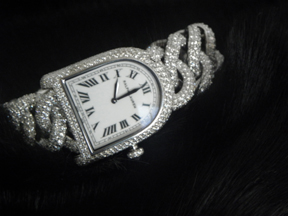 Ralph Lauren The upcoming holidays bring wonderful glamour to the forefront. It's the perfect time to take a close up look at some of the most luxurious (and expensive) diamond watches on the market. Easily among the most alluring pieces are open-worked bracelet watches with cascading bracelets that feel remarkable on the wrist and dazzle in every light. Diamonds, long recognized as symbols of power, religion,
Chanelwealth and even victory, are prized for their romantic appeal. Certainly, they make time sparkle. Today's watchmakers have found ways to set diamonds magnificently, using centuries-old gem-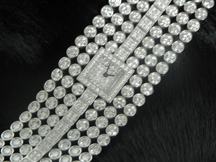 Harry Winston setting techniques, and developing new ones that are proprietary to them. In the past, diamonds used to be simply prong-set in watches, but today masters of their trade offer invisible settings where no metal shows, pave' settings for a fully encrusted diamond look and a host of other delights. The setting of a diamond watch can take master gemsetters hundreds of hours to complete. It is time-consuming work that requires patience and skill. The watches seen here have taken setters as long as several months to complete. For this reason, they command top dollar at retail. But then, good things often do.