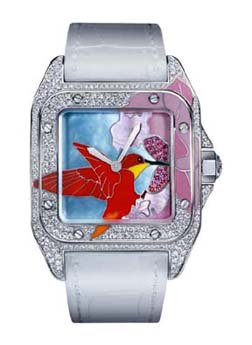 CartierSantos 100Yesterday, atimelyperspective brought you a video of the up-close workmanship — the art of enameling. Today, we bring a few modern-day examples of this alluring work. This is a centuries old art – one that lives on in watch dials of the finest caliber. Translating nature's finest birds, flowers and animals in miniature onto tiny watch dials is truly an amazing art – one that requires skill, patience and a lifetime of training. There are only a handful of artisans capable of such work, and they keep quite busy with this very time-consuming mastery. Today's most alluring enamel dial watches come from brands such as Cartier, Van Cleef & Arpels, Patek Philippe and Vacheron Constantin, among others.
Each enamel dial hand-made – often hand painted with a single-haired brush. Every time a coat of paint is applied, it must be fired – sometimes with a dial undergoing as many as
Van Cleef & Arpels Jules Verne series20 firings in a kiln as hot as 800 degrees. With each firing, enamellers know their product is at risk. The paint can bubble, or develop an imperfection. The color could run or a speck of dust could land on the dial – all making the dial useless. It would have to be tossed away and the project started again. In many cases hundreds of hours of painting go in to the making of a single dial.
There are many different types of enamel work – styles that each enameller has developed and made unique in his or her own way. The paints are the tools of trade, each a dry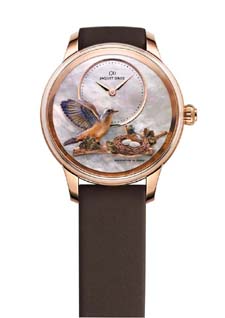 Jaquet Drozpaint that must be perfectly mixed with oils to achieve the right consistency. Colors change in firing and depth or translucency is the result of the number of coats. Often the enamel work is exquisitely mixed with gemstone settings or engravings, or a combination of other artistic masteries for an end result that is an amazing fine art – one that is always unique.