Not only are these newest GlamRock timepieces affordable watches, but also they are adorable — perfect for a gift or a self-purchase.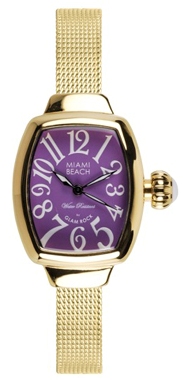 In appreciation of Miami Beach's Art Deco architectural heritage, Glam Rock unveils its newest collection MB Art Deco. With a vintage feel, featuring skinny bands, and varying case shapes ranging from round, to square, barrel, and rectangular, all of the watches in this line combine
refined geometrics with sleek curves characteristic of the art deco look. These are alluring and refreshing in every way. Every timepiece in this collection is extremely versatile, some fun enough to make friends take a second and even third look, while others are perfect for everyday business-wear. The really cool beaded bracelet versions are perfect for day to night, with a twist of art deco fashion during the day, and yet wonderfully elegant in style for night.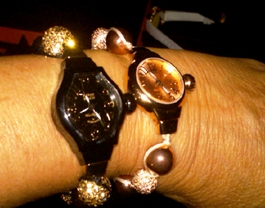 This collection offers yellow and rose gold bracelets, mesh and expandable bracelets, silicone straps, croc-embossed leather, or superb beaded- and pearl-embellished strands as bracelets. While some dials may be simple gold or silver, others feature bright neon colors giving the watch a much more playful look. These new smaller watches are both sleek and feminine, fun and luxurious. But be careful – picking your favorite watch is super difficult and you may have to walk away with more than one! The timepieces range in price from $175-$225.