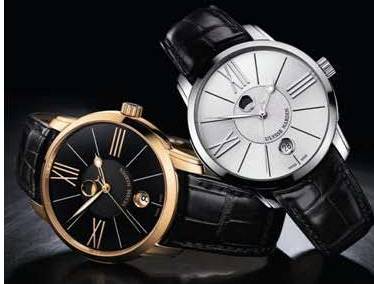 Ulysse Nardin, and the legendary Ludwig Oechslin, has done it again – unveiled great new watches that offer a unique and unusual moon function for men and women.
You will recall the amazing Moonstruck watch that we wrote about in many publications – when we went to the observatory in Nice with Ulysse Nardin for its unveiling. Now the brand releases the Classico Luna, with principles based on the Moonstruck and its precise replication of the phases of the moon's waxing and waning. The Classico Luna is a self-winding watch that depicts the moon's rotation in a realistic representation, as it reflects the light of the sun and the shadows.
I had the great pleasure of sitting with Ulysse Nardin CEO, Patrik Hoffmann,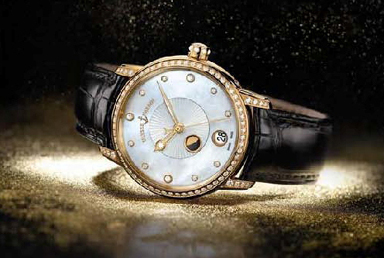 recently to take a close-up look at the Luna and it is a stunning watch in both its feminine and masculine forms. Yes, the Luna definitely has the entire DNA that one would expect of it being a result of Oechslin's concepts and a derivative of the Moonstruck. It is beautiful and mesmerizing to look at and naturally fantastically precise.
"There are two patents in this watch, which was two years in the making," says Hoffmann. "What's truly amazing about it is that there are very few parts used to make this because the display function is integrated in to the dial."
In fact, the Classico Luna depicts its angle of illumination as its moon rotates around the center of the watch – making one rotation in 12 hours. As it turns to fulfill its 29.5-day moon phase circle, the moonphase disc on the watch changes, increasing or decreasing as the moon waxes or wanes. A magnificent artistic masterpiece with movement, allure and superb craftsmanship (I may have found my next watch!), the Classico Luna is crated in either setel or rose gold and measures 37mm in diameter. It retails from $8,500 to $22,800 for the women's rose gold version with diamonds.