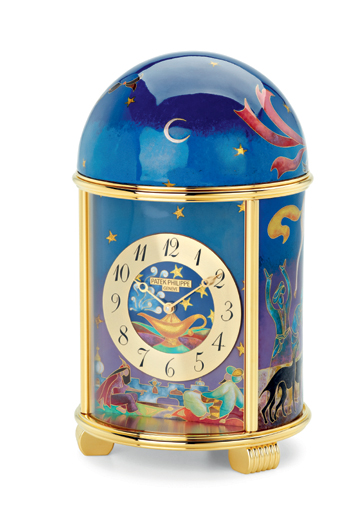 Yesterday we brought you a close-up look at Rare Handcrafts – a set of limited-edition marquetry Royal Tiger watches from Patek Philippe that are exquisitely made with passion. We promised to deliver an insider's look at some more of the best watches from this brand – and are doing so today in the form of unique dome clocks. Patek Philippe has been hand crafting these unusual dome table clocks for decades — unique pieces that are superb renditions of fairy tales and dreams.
In the Carousel, Ref 1579 M, Cloisonné' Enamel Dome Clock, approximately 45 opaque, translucent and opalescent enamel colors are used to create the carousel rooftop and horses that comprise this alluring piece. A length of gold ribbon was used for the partitions that is 28.70 meters long – approximately 90 feet and weighs 57.41 grams. Each enameled element requires 5 to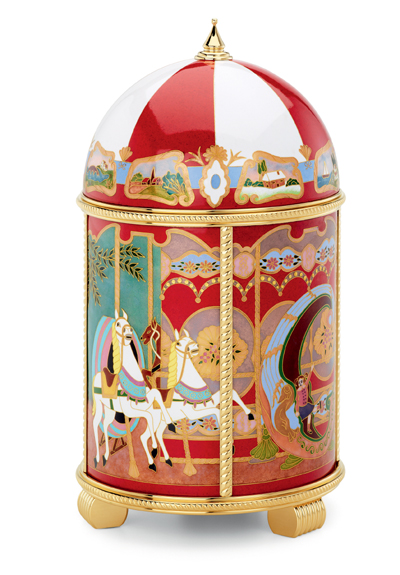 7 firings at temperatures between 800 and 850 degrees centigrade to complete the process. With each firing, comes a risk of damage and destruction.
For the One Thousand and One Nights Tales, Ref 1604 M, Cloisonné' Enamel Dome Clock with integrated gold and silver leaf, approximately 44 opaque and transparent enamel colors were used. Each element – from Arabian figures, to horses, moons and stars, required six firings. The clock features a length of gold ribbon for the partitions that measures 12.45 meters (more than 36 feet).
Each clock is a unique piece, a work of art, a wonder to behold. No matter how long one stares at the dome clocks, turning them and turning them, there is still another beauty to behold. In these pieces, it is as though time stands still. The artists, who have captured beauty herein, have held time captive in a masterpiece destined for greatness – as only Patek Philippe can do.