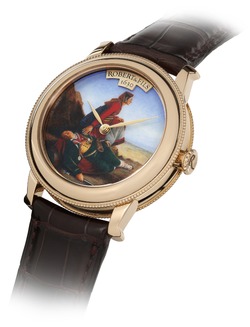 More than a dozen years ago, a friend of mine, Gilles Robert, who has created and designed watches for some of the world's foremost brands, created a line of ladies' watches under his Gilles Robert name. I own one of those lovely steel-and-gold timepieces and am proud to still own and wear it.
Just about nine years ago, however, Gilles Robert ventured into his family's rich watchmaking heritage and launched the Robert & Fils 1630 brand – one that focuses on the Robert family's 400 years of tradition. It was in 1630 that Abram Robert was responsible for the clocks in Le Locle, and the family has designed and made timepieces ever since.
Gilles Robert is the 11th generation of his family. As such, the timepieces created today by the company are built in extremely limited numbers and focus on grand feu enameling, engraving and the highest art forms in the watch world. Watches are inspired by the family's artistic heritage, including reproducing in miniature the paintings of artist Leopold Robert (1794-1835) that can be found around the world in museums. In 2010, the brand released exceptional bird scenes.  Additionally, the timepieces use "Robert" calibers, that are vintage calibers restored by hand.
Now, the newest timepiece to be released in just about a week at the upcoming BaselWorld 2011 is "The Brigand's Rest," a unique grand-feu enameled watch with an 18-karat gold case and dial featuring an enameled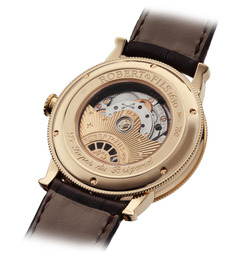 miniature replicating an image of the brigand's wife watching over the rest of her husband Leopold Robert. The original painting was oil on canvas, masterfully done in Rome, circa 1827, and is on display at the museum of fine arts in LaChaux de Fonds. Both the new watch and the painting will be on exhibited in BaselWorld. The watch houses a five-step historical automatic movement that was manufactured at Fontainemelon between 1960 and 1970 and features a 22-karat gold oscillating weight. The price has not yet been fully established.