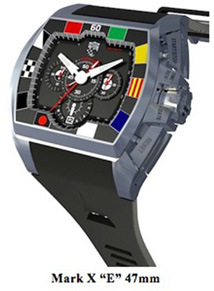 As you may recall, a little under a year ago, Atimelyperspective reported on Stefan Johansson's Vaxjo Collection here. It is a sports watch line created to incorporate both precision and durability with a bold look. Johansson, a professional race car driver, knows all about the importance of being in the moment, and connects the language of racing and the language of time in this collection. This year, Johansson releases three new Mark IX and Mark X collections, which he recently showed in private to Atimelyperspective. He has been working to fine tune these watches for the past three years, and describes them as the point "where form meets function."
These new watches, powered by Dubois-Depraz movements , include the 47mm Mark X "E", the 45mm Mark IX "C", and the 41 mm Mark IX "G". They were created individually to represent different aspects of Johansson's racing career.
"I have created three families of dials, each one with a specific theme or concept. The three are embodied as the Signature Flag dial, the 24-hour countdown and our latest Retro themed dial," says Johansson.
The "C" series is engineered with a stopwatch function that can count down 24 hours – symbolizing his experience racing in the Le Mans. The "E" chronograph captures the essence of the 103 Grand Prix with hour index
markers that are the 10 official flags of motor racing. The newest dial in the series, the G, combines the designs of the Vaxjo watch collection with a dial that ensures maximum visibility – an important aspect in racing.
All of the timepieces share some unique characteristics including a 60-minute chronograph register. The E and G models also include a telemeter register, which measures the speed of sound. In addition, the all black straps on these watches, made from silicone and heat-resistant rubber, possess a tread pattern on the interior to help reduce perspiration. These watches are equipped with sapphire crystals with anti glare coating, and the case back is engraved with the individual 'chassis' number, and, if the owner desires, his or her name. These are great new additions to an already super cool collection.