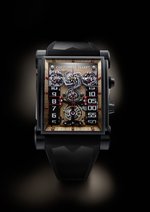 For those not in the watch industry – but lovers of it – you may or may not be aware of the sound  behind some of the best chimes on the market and the power source of some of the finest watches in the world. What am I talking about? Christophe Claret and his repeaters (watches that chime the time) and other amazing movements. For years this watchmaker extraordinaire has been creating complex movements for some of the world's finest brands in a behind-the-scenes capacity.  While he didn't always get the recognition he deserved, of late — as more and more brands have spoken out and named their exceptional craftsmen and makers of magic – Claret has become an almost heralded name in the watch movement world.
Christophe Claret is an artist, a master, a genius – all put together in a singular package of determination and perfection. And thank goodness for the watch world. Claret began tinkering with clocks at the young age of 8, picked his profession by 14 and was building his own timepieces as a very young man. He started his own company just over 20 years ago (at the age of 28) in La Chaux-de-Fonds as he ventured into making movements after receiving a commission from Rolf Schnyder of Ulysse Nardin to create 20 minute repeater jacquemarts (the San Marco collection). The story of this watchmaker's back-stage successes is enlightening and almost overwhelming – with daring feats such as the movements that drive the Jean Dunand Orbital Tourbillon, the Harry Winston Opus 4 or Tourbillon glissiere, and others. From Westminster chimes to flying and twin tourbillons, to grand complications, Claret regularly surprises and delights.
In 2009, in honor of the 20th anniversary of Christophe Claret SA, Manufacture D'Horlogerie, Claret released his DualTow watch — the first grand complication watch to bear the Christophe Claret signature. The mechanical hand-wound DualTow was two years in the development process and is a revolutionary concept in terms of design, technology and display.
DualTow offers a belt display of hours and minutes, a tourbillon escapement, and a patented single-pusher planetary-gear chronograph, that – in Claret style – is equipped with a gong that chimes with each press of the chronograph pushbutton for start, stop and restart. This year, Claret released the DualTow, NightEagle, inspired by stealth aircraft. Its convex black PVD-coated titanium case is entirely machined in-house, and it features three sapphire bridges.  DualTow retails for approximately $515,000 to $567,000. Now, just in time for fall, Claret releases this autumnal DualTow with PVD coated titanium case and copper colored dial — an easy-to-read and sublimely  beautiful work of art and function.
"For me it is very important to have aesthetics," says Claret. "The movement must perfect, but the watch must be beautifully proportioned, too."
www.dualtow.ch