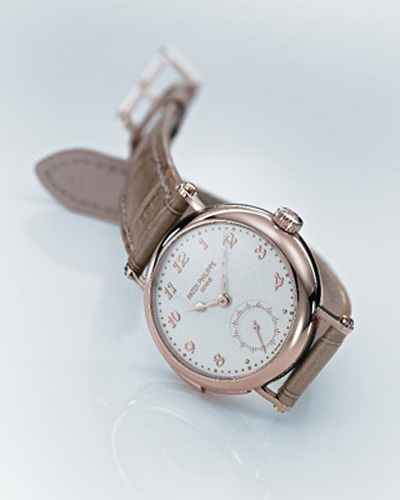 Patek Philippe- long the leader in complex timepieces pays closer attention to women's complexities this year with an extensive array of complicated women's watches that run the gamut from a split-seconds chronograph to the ultimate, first-time-ever for the brand Minute Repeater. This alluring and inviting complication – the elaborate acoustical chiming timepiece – is the Ref. 7000, and houses multiple gongs to chime the hours, quarter hours and minutes on demand.
The Patek Philippe self-winding caliber with off-center mini-rotor in 22-karat gold is an ideal movement for the watch thanks to its small dimensions yet horological magnificence. The brand opted to house this caliber in the Officer's style case with its classical and elegant look. Replacing a typical hinged-back cover, however, the watch features a sapphire caseback to reveal the melodious movement in all its glory.
The watch is the perfect blend of femininity and master craftsmanship – utilizing the finest materials and finishings. The 342-part movement consists of intricately finished and precisely placed toothed racks and wheels that move accurately into place to perfectly track and chime the time in uniformed successession. One master watchmaker is responsible for the assembly, adjustment and completion of each individual watch from start to completion, due to the patience and precision required for the assembling and adjusting of these complex pieces.
After the months-long journey of being built, when the watch is finished, but before it can be properly packaged for delivery to its owner – it must be tested by human ears for perfection. This is the job of the family owners of the brand: Thierry and Philippe Stern, who assume personal responsibility for the rich resonance of each 18-kart rose gold minute repeater.  This exclusive timepiece should retail for just about 350 Swiss francs.