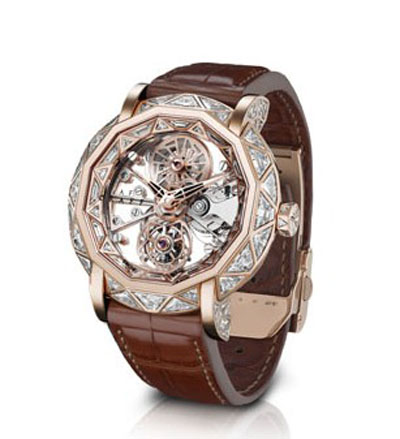 This is one you won't see often! In fact, just 10 of this amazing MasterGraff Skeleton watch will be made. The spectacular transparent timepiece reveals the intricacies of the open-worked skeletonized self-winding movement with tourbillon. The caliber is housed in a 48mm faceted case built according to Graff's strict codes of perfection.
For those who aren't familiar with Graff, this is one of the foremost jewelers in the world – renowned for purveying and producing some of the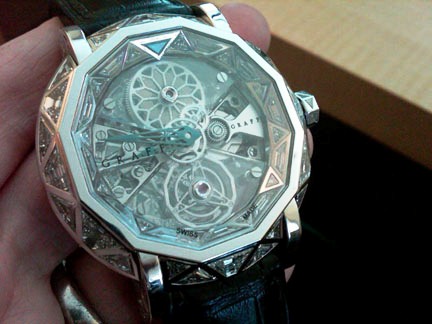 most exquisite diamonds in the world. Thus, it comes as no surprise that this house would produce such a splendid looking watch. The Tourbillon with sapphire crystal bridges and the mechanical movement are visible thanks to the double sapphire crystals that ensure panoramic views. This beauty consists of 164 diamonds totaling more than 21 carats. Even winding this watch is like a magic dance, as the effect of the action the barrels can be viewed from the caseback. The watch is offered in limited editions of 10 each in 18-karat rose gold and 18-karat white gold.
This brand also recently unveiled a MasterGraff Minute Repeater that we got to see, touch and activate recently. The repeater mechanism in the newest watch is one of the loudest in the world, and also a magnificent work of art.