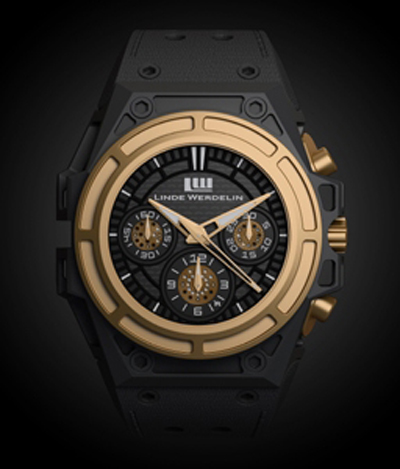 Linde Werdelin, launched in 2006 to create top-notch Swiss-made, Danish-designed luxury sport watches, treads boldly in the world of avant-garde technology. Specializing in producing limited-edition watch series of between 22 and 222 for each model, all Linde Werdelin watches house an automatic mechanical movement and have a 42-hours of power reserve. What's more, this brand produces clip-on accessories that add even more ana-digi sports technology to certain timepieces, including dive technology capabilities and more.
In its SpidoLite series, inspired by the racing car industry, the SpidoSpeed chronograph features a skeletonized dial with a complex multi-layered effect and a complex case offering 3-D appeal. The subdials on the chronograph are created in metal with small holes that are reminiscent of the dashboards of 1940's racing cars. Depth is achieved via several layers. Perfecting the construction of the case was a two-year long procedure, with the skeletonized part of the case being the most complicated and time-consuming to produce. It must be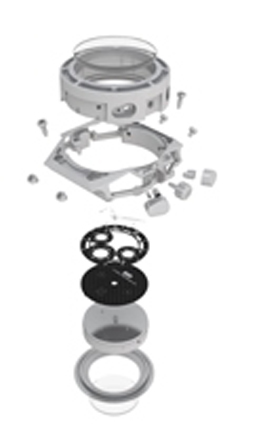 drilled using two different sophisticated 5-axis machines, and setting up the 5-axis machines alone is almost a day's work. The height of the case has been raised to 3mm more than the SpidoLite one, allowing space for the chronograph pushers to be incorporated into the case sides and protected from accidental hits during sports activities. The hidden pushers also allows for attaching of the brand's famous instruments – either dive (Reef) or ski (Rock).
Powered by a Concepto movement (2251 caliber) that is partially visible through the sapphire crystal case-back, the SpidoSpeed has a specially designed rotor that is also graphically aligned with the SpidoSpeed case. The watch is offered in steel ($15,200), steel black DLC and titanium ($15,900) or titanium DLC and rose gold ($21,400). Only 100 pieces of each will be built. This is a cool instrument watch that boldly goes into the sporting world with attitude and excellence.