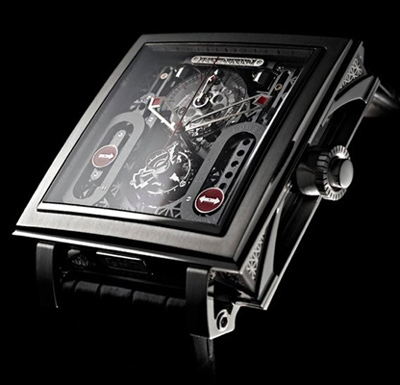 For the past decade, the Jean Dunand brand has been quietly turning out masterpieces. The brand, born of the fascination of two great watchmaking minds — Thierry Oulevay and Christophe Claret, celebrates Swiss-born artist Jean Dunand (1877–1942), one of the great craftsmen of the art deco movement. With the brand name in place in 2003, this team struck out to marry science, craftsmanship and art in unique masterpieces.
Every Jean Dunand Piece Unique is, indeed, unique; no watch shares its materials or decoration with another. The styling of the watches is always consistent with the art deco ideals of simple geometrics and functional design. With these concepts and Claret's amazing talent, rare and exceptional pieces were born. Such pieces include the now-coveted Tourbillon Orbital and the alluring Palace with one-minute flying tourbillon, chronograph, GMT indicator for second time zone and power reserve.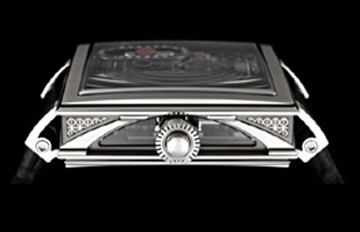 This is truly one of the most conceptual works of haute horlogerie, paying homage to the industrial revolution. While it was unveiled in 2010, just a few are built each year, so there is still opportunity to get one of these works of art. (At a price of just about $450,000).
This is watch that is not to be forgotten in last year's news!
A true art-deco watch, The Palace was inspired by buildings of that era. The bold 48mm x 49mm titanium case provides protection for the 703-part movement whose rigid plates are supported by 10 miniscule pillars – reminiscent of a massive iron building or bridge. Other details recall the cross-pieces found in the bridges of the era and in the Eiffel Tower.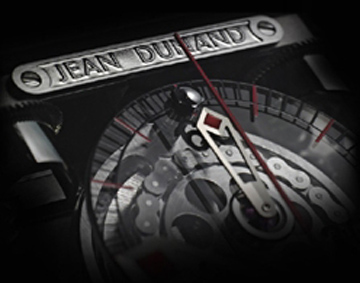 At the heart of the Palace beats a flying tourbillon, on either side, two oval-shaped tracks are reminiscent of the "Milwaukee Mile" racing circuit. The left track indicating GMT makes two passes: when the disc reaches the end, it flies back to the top and the arrow rotates 180 degrees to chart the other scale. On the right, a 72 hour power reserve indicator mirrors the GMT.
Visible bridges and wheels are striking visual reminders of the Industrial Revolution. A unique winding mechanism communicates its power to the barrel via a tiny chain designed to evoke the chain of vintage motorcycles. Each Palace is a unique piece.