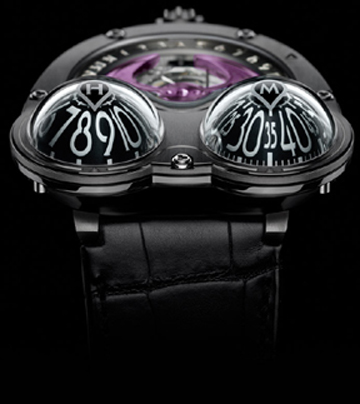 Rare, unusual, and top-of-the-line mechanics – that about sums it up when it comes to creations from MB&F, and the newest extension of the HM3 Frog – the HM3 Frog Zr is no exception. Wowing us with the colors at first glance – the case is black PVD zirconium with a purple 22-karat gold rotor — the HM3 Frog Zr is crafted of amazing materials and is yet another of MB&F's achievements in its efforts to bring a bit of whimsy to haute horlogerie.
Whimsy, however, doesn't outweigh craftsmanship or cutting-edge design and materials. To begin with, the Zr is Zirconium, a material resembling titanium but tougher. (A protective ceramic layer of this material and another coat modern jet engines, and zirconium alloys are used in the space program.) The hour and minute domes that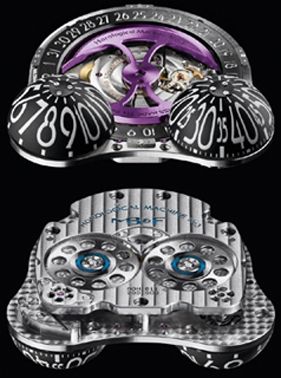 rotate under the sapphire crystals (readable from any angle) are machined from solid aluminium (whose light-weight properties reduce rotational energy requirements).
The 3-D, 304-part engine of this watch (powered by a Girard-Perregaux base) was designed by the brilliant Jean-Marc Wiederrecht (Agenhorz). (Atimelyperspective has covered JMW before, as his talents are exceptional.) The hours and minutes info is transmitted via ceramic ball bearings to the rotating domes, which feature the hours on one dome (rotating in 12 hours) and the minutes on the other (rotating in 60 minutes).
The HM3 Frog Zr, with its amazing 53-part case, is built in a limited edition of 18 pieces, each retailing for just about $92,000. So if you've got a mind for a rare purple and black riveting frog – get jumping.