Jon Omer, head of DeWitt USA told me the other day when we had drinks at the Waldorf Astoria, after visiting Cellini, that DeWitt is launching an all new ladies collection for 2011. While he wouldn't reveal any secrets – in fact he was just flying over there this week to see the line for himself — we both agreed it was good timing. DeWitt is a great watch brand with a creative mind –Jerome Dewitt – behind it. But the ladies line has always just been a reinterpretation of the men's watches. Having a ladies collection created in its own rights will be refreshing.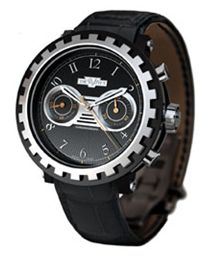 While DeWitt is known for its Tourbillon Differentials and incredible complications, of late some of the best sellers in the brand are the Black stream Chonosequentiel in PVD, rubber and titanium (which sells for about $29,800), and the Automatic that retails for about $19,800. (Though DeWitt does have another patented Tourbillon he is planning to unveil at Basel 2011. ..Shhh!!)
DeWitt in Switzerland only produces an extremely limited number of watches a year with its 70 employees, and one watchmaker builds an entire watch from start to finish based on Jerome Dewitt's exacting standards. "He takes every watch project to the fullest extended and focuses on creating useable functions or applications," says Omer. "It is his goal to make each watch more useable and practical – and always exacting." For more information, visit http://www.dewitt.ch/.