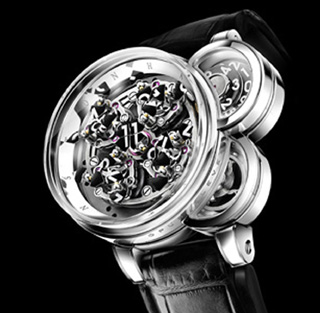 It's no secret that since 2001 when Harry Winston first started its Opus series – this has been one of the most anticipated watch unveilings every year. Essentially the Opus was started when the brand opted to work with independent watchmakers to bring their talents to the foreground – in a symbiotic relationship that turned into an annual event. Some of the most incredible timepieces have been created out of this relationship.
This year, the new Opus Eleven, created in partnership with Denis Giguet, engineer, watchmaker and founder of the watch brand MCT, is an extraordinary work of mechanical engineering that also indicates the time. The watch, created in a limited edition of 111 pieces, features three overlapping cylinders or circles – on three levels: the center or main circle indicates the hour; two auxiliary dials on the side of the main circle show the minutes (on a jumping disk for the tens, and on a running disk for the units), and the titanium balance wheel.
The amazing thing about this watch, however, is not the design, as much as its action. This watch is all about time exploding – or deconstructing — and then reconstructing right before your very eyes. Every hour, the digits that indicate the time in the center of the main circle (shown via pallets) split apart into seemingly tiny bits and pieces – breaking up and chaotically exploding — and then form back together again almost instantly with the new hour indication. Everything then remains calm for the next 60 minutes until the explosive fervor excites the senses all over again. The entire action works via a complex rotating gear mechanism complete with 24 revolving placards and is a fantastic sight to behold. In all, the movement consists of 566 components, 155 jewels, and 24 conical pinions. The Opus Eleven retails for $230,000.
watch the video of the movement here: http://www.youtube.com/watch?v=YWvhp4YL3Bc