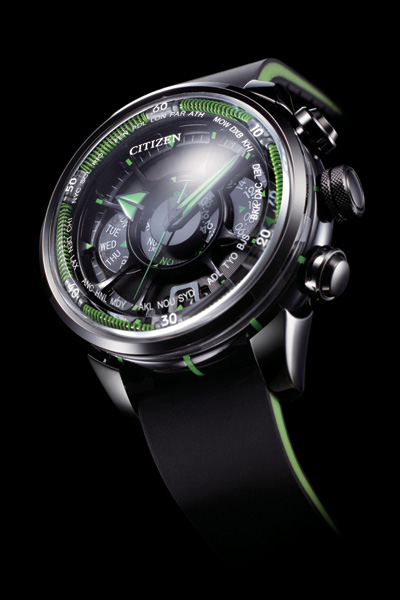 This fall, Citizen Watch Co unveils the super cool, super high-tech looking Eco-Drive Satellite Wave limited edition watch that captures the day, date and time signals from satellites 20,000 kilometers above the earth.
This ultra-precise watch (since satellites signals are controlled by the atomic clocks) has worldwide reception — receiving signals from each of the 24 navigation satellites that orbits the earth once every 12 hours – no matter whether one is wearing this watch in a desert, the open Pacific or the world's highest mountains.
The watch is a combination of high-tech, high-mech with a futuristic space design, satellite timekeeping system and time/calendar functions. The perpetual calendar watch with time indication in 26 cities around the globe features a metal ring embedded in the glass bezel like its own satellite in orbit. The round case, independent of the lugs, is meant to recall the Earth's image in the design concept. The spiral parts of the watch seen from the bezel sides evoke a sense of the radio waves from outer space, but in fact are visible symbols of the light waves that provide the Eco-Drive source of inexhaustible energy to drive the watch, which is powered by light. The Eco-Drive Satellite Wave house the Calibre H990-Eco-Drive. The case is crafted of ceramic and stainless steel and is a steal at $3,800.