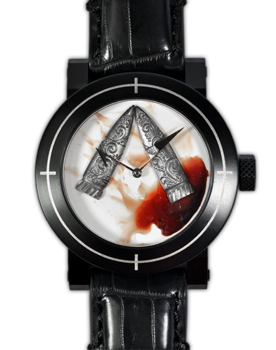 We've written about ArtyA before here – in fact, this is a brand we love. The creative genius of Yvan Arpa is nearly unparalleled when it comes to wild, different and definitively off-beat. In fact, his timepieces are works of art, and he openly states that the "Imagination running wild leads the artist, and the watchmaker has no choice but to follow."
ArtyA uses real elements in the design of its watches – everything from dirt to bugs, animal fur, metals and more. Every piece is a unique work of art. Now, just in time for Halloween, the brand unveils the Blood and Bullet watch – maybe a great thing to have while out trick-or-treating in case you run into a real werewolf.
The watch combines a handmade silver bullet that is forged, engraved and rubbed with garlic in Geneva during a full moon. It also contains a bit of blood – the victim's?  The 47mm watch – deliciously scary – houses an automatic Swiss made movement – to keep it functioning at that most necessary moment in time.  While the retail of this watch was not yet established – it's just about a few thousand dollars—well worth that werewolf/vampire fend off.