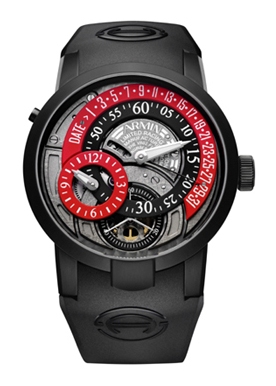 So who wouldn't want a real piece of a Formula 1 car on their wrist? Come on – if you are a car lover – and a watch lover—then you know your interest is piqued here. Instead of just a name on the watch, Armin Strom goes a whole lot of steps further. This visionary Manufacture (which sponsors and times the Marussia Virgin Racing F1 Team) actually incorporates parts taken from the Virgin Racing team's Formula 1 cars after the engine is spent into the movements of its Armin Racing Collection.
Essentially the car engines are no longer viable after about 40 days of use, so  Armin Strom has certain parts shipped to them for cleaning and production into watch movement parts – the ultimate engine-to-engine refabrication! The car parts are cleaned in a vacuum process at an industrial foundry in Switzerland, then liquefied. The liquid aluminum alloy is transformed into blocks that are then milled by CNC machines into watch  bridges. These components then follow the same in-house processing at the Armin Strom watch Manufacture
as other parts. The finished racing-component bridge has a special high-tech look to it.
The Formula 1 car alloy bridges are used in the Armin Racing One Week (with seven days of power reserve), which retails for $27,500.  The watch houses the ARM09-MVR manufacture movement. It is created in a limited series of 40 pieces; the Armin Racing Regulator watch with Unitas movement retailing at $19,700. The entire center bridge of this watch is made of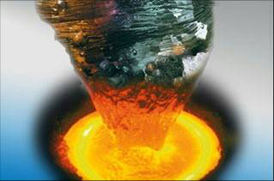 the aluminum alloy from the melted engine block; two Armin Racing Chronograph versions with ETA movements  retailing for $8,600. This Racing Collection is definitely one you want to zoom zoom to get.