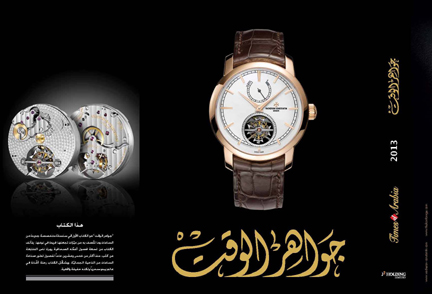 An expressive full-color hard-cover book on the entire realm of jewelry watches will be out soon — in Arabic and Chinese only. "Jewels of Arabia" is a 218-page work written by award-winning watch journalist, Roberta Naas and published by MPP — Middle East Media LLC. It is Naas's fifth book published on the subject of  timepieces. This book features an historical chapter about the rise of timekeeping, and subsquent chapters on some of the most prizeed watch materials and makings — ranging from gold and platinum to diamonds, gemstones and pearls. If you read Arabic — or Chinese — this is for you — otherwise you can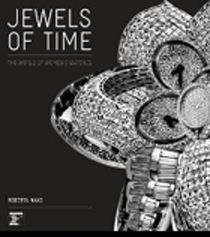 only look at pretty pictures of the world's finest timepieces.
Meanwhile, if you are a lover of women's watches and would like to indulge in a superb book on women's watches — written in English — don't miss Naas's fourth book, which just came out on the market earlier this year. Published by Farameh Media, Jewels of Time is a stunning hard-cover book filled with women's watches of the most alluring sort — from enamel and high-jeweled pieces, to animal inspired watches and alluring secret watches. You can get more info on that book here.